Product Description
Flexo printing mounting tape consists of a flexible fabric cloth backing with a rubber adhesive system. The adhesive has a high coating weight making it well suited to mounting plates in flexographic printing applications. High adhesion and backing strength also ensure secure vertical storage of mounted plates.
Our HX Rubber flexo plate mounting tapes assortment offers:
1. Reliable adhesion properties, tailored to the specific requirements of the application
2. Different cloth backing materials and adhesive, ensuring a range of required product thicknesses with stable and easy tape application
3. Optimised mesh release liners, promoting easy application and ideal handling
Applications
Flexo printing mounting tapes can be used in a variety of different print jobs, for example, flexo printing of corrugated board (postprint), flexo printing of film with compressible sleeves, letterpress printing of labels, or dry offset printing of cups, to name but a few.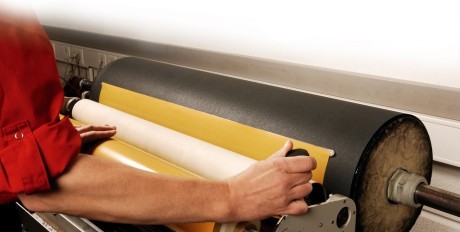 Features
1. HX plate mounting tapes can be removed easily without leaving adhesive residues.
2. High adhesion values for reliable application.
3. High adhesion and shear also ensure that there is no edge lifting, even on longer print runs and at higher speeds.
4. Cloth backing for excellent, reliable bond, even when stored vertically.
5. Easy plate demounting
Mounting Process