Washi tape is coated acrylic adhesive on smooth rice paper.Washi tape is used for indoor or outdoor painting masking for the surfaces, such as furniture, wood craft, music instrument, sport equipment, decoration, metal, rubber, plastic parts.
Specification
---
1. Material: washi paper can supply different colors
2. Width and length: according to clients' request
3. Rubber adhesive or hot melt adhesive
4. Leaves no residue
5. Shadowing when spray-painting
6. Peels off easily
7. Reduces surface scratches
8. Suitable for mounting printing plates, decoration, painting and a multitude of other uses
9. Good water-proof and solvent resistance
10. 14 days UV resistant
Usage
---
1. Gift Box Package
2. Sealing of joints between windows, doorframes and walls
3. Masking of surfaces during spraying, painting, lacquering and plastering (provides protection to surfaces not to be painted, lacquered or plastered)
4. Masking of auto body components during auto painting
5. Sealing of lightweight cartons, small boxes and Repairing of books, maps, posters
6. Protection to metal, plastic or glass surfaces against scratching and Covering of sharp edges to afford their safety
7. Protection of mirror or glass edges against spelling, Bonding a paper tape to a liner, Patching of paper sheets and Butt splicing of paper tapes and paper sheets
Product parameters
---
Sort:

Custom Washi Tape


Type: HX-6009

Constructure:

surface activator / Rice paper / Acrylic adhesive

Performance:

Item

Unit

Data

Test Standard

Total thickness

μm

100±15

GB/T 7125-1999

Initial tack (Ball test)

Ball No.

≥ 12

GB/T 4852-2002

180°peel adhesion(to stainless steel)

kN/m

N/25mm

≥ 0.12

≥ 3.0

GB/T 2792-1998

Holding power (to stainless steel)

Hrs.

≥ 3.0

GB/T 4851-1998

Tensile strength

kN/m

N/cm

≥ 2.0

≥ 20

GB/T 7753-1987

UV-resistant

/

14days

/

Temperature resistance

110

Color: Natural white, Brown, Yellow and so on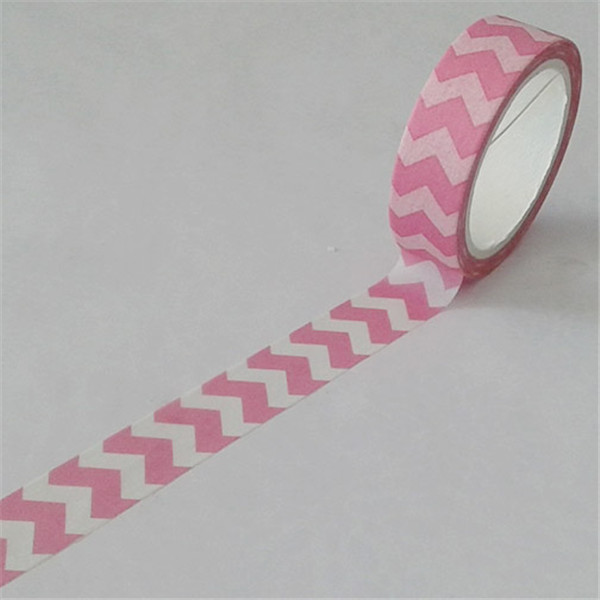 Why choose us
---
1. Provide professional product customization services;
2. Adhesive tape industry first propose: 20 months guarantee change of article or refund if unsatisfactory.
3. A manufacturer combined of Making Glue, Coating semi-finished Jumbos, Cutting and Packaging the finished tapes.
4. Having a full line of professional tape testing equipment, quality of follow-up monitoring.
5. 10 years to focus on hot melt adhesive tapes, senior engineers with 15 years experience in this field.
6. Adopted good quality imported and Sinopec law material.
7. Haixiang independent R&D of coated glue formula have excellent adhesion, strong weather resistance, summer and winter can used commonly.
8. 5 years experience in overseas markets, cooperated with Amazon and other well-known enterprise.